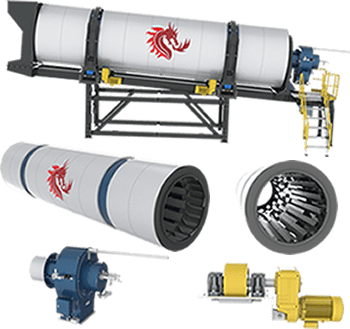 Asphalt plant aggregate dryer takes the moisture of the aggregates dosed in various fractions by the aggregate bins and heats them up to approximately 160-190 degrees Celsius. Dryer is one of the most important equipment in the asphalt plant.
The Italian burner provides lower fuel consumption.
Thanks to the perfect design of the easily replaceable dryer buckets, it provides the aggregates to be heated and dried with an optimum heat transfer surface.
By attaching a soft starter to the dryer, rapid start and sudden stops are prevented. Thus, the deformation of the ring wheels is reduced.
The motor is driven by reducers, facilitating drum rotation.
It has a body that is covered with stainless steel sheet and insulated with rock wool to prevent heat losses.
Special design inside the dryer; It has an easily replaceable wing structure with arrays and angles. Effective heating and drying are achieved by the longer distance of the burner flame and the longer contact of the aggregate with hot air and hot surface. There is a pre-combustion chamber that prevents the direct contact of the burner flame with the inner surface of the dryer from the corrosive effect of high heat.
There are two types of aggregate dryers. These are parallel flow dryers and counter current dryers.It differs according to the relationship between the aggregate flow and the air flow in the two types of dryers. Aggregate drying method is the same in both dryer types. In parallel flow dryers, the aggregate flow and the air flow are in the same direction. The cold aggregate silo and the flame enter the dryer from the same mouth and the materials go towards the exit direction.
In counter-current dryers, flame and aggregate are supplied from different inlets. In general, counter-current dryers are used in batch type plants. In continuous type plants, parallel flow dryers are preferred. Compared to counter-current dryers and parallel-flow dryers, counter-current dryers exchange heat better.