240 tons/hour Capacity Stationary Asphalt Plant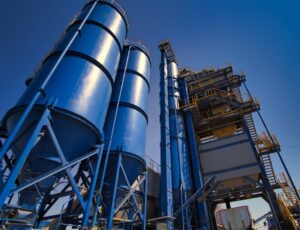 Power 240 tons/hour capacity asphalt plant is suitable for producing hot asphalt for large-scale road projects.
PRODUCTION IN EUROPEAN STANDARDS
Our company, which has been producing plant in many parts of the world for more than 40 years, has achieved customer satisfaction by producing in internationally accepted quality criteria. We produce high quality plants by giving importance to every detail from the materials used to the workmanship.
HIGH PERFORMANCE
One of the biggest advantages of Power asphalt plants is designed for %5 humidity and severe climatic conditions. You work at maximum performance with our engineering calculations, quality components and tested products.
LOW OPERATION AND MAINTENANCE COSTS
One of the important points to consider when purchasing an asphalt plant is the amount of fuel you will burn and your periodic maintenance costs. Power Asphalt Plants work with minimum fuel consumption with its modern dryer design and Italian production burner. With the use of heat and abrasion resistant steel produced in Turkey, parts of internationally known brands and our experienced engineering staff, your maintenance costs are reduced to a minimum.
ENVIRONMENTALLY SENSITIVE AND LONG LASTING FILTER TECHNOLOGY
It works at low emission values with its atmospheric type modern technology. Metaaramid bags are heat and abrasion resistant. It has twice the lifespan than other types of bags. The pre-separator increases the filter efficiency by %50.
POWERCONTROL AUTOMATION SYSTEM
Powercontrol automation system has user-friendly software in different language options. It has reporting specificatipons that will enable you to have information on cost and sales issues such as unlimited recipe records, customer sales , daily reporting.
AFTER SALES SERVICE, WARRANTY AND SPARE PARTS
With 7/24 expert personnel support and remote connection to the plant, plant failure can be determined in a short time. Critical equipment is constantly kept in stock. Since parts of international quality are used, you can find our asphalt plant spare parts in many parts of the world. The plant you purchase for two years is under our warranty.
ADDITIONAL EQUIPMENT
Our asphalt plants are designed in such a way that additives (fiber additives, modified bitumen, foam asphalt) and recycling asphalt units can be added. In addition, our asphalt plants have the option to stock 30-300 ton of asphalt with the option of a multi-compartment ready asphalt bunker for the production of hot asphalt in different recipes.
REDUCE YOUR CONCRETE FOUNDATION COSTS
Your concrete costs are reduced with the steel legs we manufacture optionally for the tower and other equipment.