160 ton/hour capacity Stationary Asphalt Plant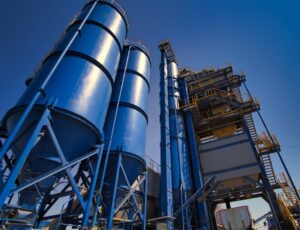 Power 160 ton/hour capacity asphalt plant is suitable for producing hot asphalt for medium and large scale road projects.
PRODUCTION IN EUROPEAN STANDARDS
Power produces high quality asphalt plants with its experienced staff and global scale parts in asphalt plant production.
From raw material purchase to product delivery, every stage goes through quality control. Plant equipment is tested by running it before delivery. Quality documents of each product are delivered to the customer with the plant.
MAXIMUM PERFORMANCE
Aggregate humidity is one of the most important factors affecting the asphalt plant capacity.Power Asphalt Plants, which are designed according to %5 humidity, provide maximum performance.
LOW OPERATION AND MAINTENANCE COSTS
Asphalt plant operation and maintenance costs are very important for you to compete with the market. With low fuel consumption, heat and wear-resistant steel parts, and our user-friendly software, you reduce your asphalt production costs.
ENVIRONMENTALLY SENSITIVE AND LONG LASTING FILTER TECHNOLOGY
Our reverse airflow bag filter technology operates within the limits stipulated by environmental regulations. With its pre-separator providing %50 filtering ease, 180-degree resistant metaaramid bags, and a piston-free and valveless cleaning system, you will have a long-lasting and minimally-maintenance filter.
POWERCONTROL AUTOMATION SYSTEM
With the power control automation system, you can connect the asphalt plant to our factory from every construction site with internet, you can make fault detection and software update. With its multi-language support, user-friendly interface and security measures, you will not interrupt asphalt production.
AFTER SALES SERVICE, WARRANTY AND SPARE PARTS
With over 40 years of manufacturing experience, we know the importance of after-sales support. Our expert team provides 7/24 service, and our company keeps critical parts in stock. With our 2-year plant warranty and after-sales support, your construction site will continue on its way.
ADDITIONAL EQUIPMENT
Equipment may be required for the production of different asphalt types. Power asphalt plant is designed in such a way that additives (such as fiber additives, modified bitumen, foam asphalt) and recycling asphalt unit can be added.
REDUCE YOUR CONCRETE FOUNDATION COSTS
Your concrete costs are reduced with the steel legs we manufacture optionally for the tower and other equipment.