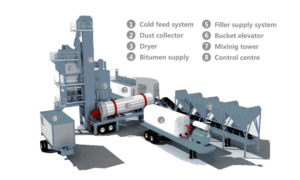 The Power 120 ton/hour mobile asphalt plant is suitable for the production of hot asphalt for medium-sized road projects.
EASY PORTABLE
120 ton/hour mobile asphalt plant; It provides fast installation and commissioning with its single chassis mobile tower and units in mobile design. With the mobile bitumen tank and mobile hot oil option, it can be transported mobile, including hot oil and bitumen installations.
HIGH QUALITY
The power asphalt plant, which is produced with global scale parts, goes through quality control processes at every stage of production. Our brand, which has international quality certificates, produces asphalt plants of European quality.
MAXIMUM PERFORMANCE IN HEAVY CONDITIONS
Power asphalt plant has been designed considering %5 humidity and heavy construction site conditions. You can produce asphalt with maximum performance in all conditions, with mechanical and electrical equipment suitable for working under heavy conditions.
LOW OPERATION AND MAINTENANCE COSTS
You will have low operating costs with its specially designed fuel-saving dryer and Italian brand burner. It reduces your maintenance costs by offering long-lasting use with its special wear plates and castings resistant to hard aggregate in the mixer.
ENVIRONMENTALLY FRIENDLY / TECHNOLOGICAL FILTER
The reverse air flow cleaning system is environmentally friendly with metaaramid filter bags resistant to heat and abrasion.
POWERCONTROL AUTOMATION SYSTEM
With the power control automation system, you can connect the asphalt plant to our factory from every construction site with internet, you can make fault detection and software update. With its multi-language support, user-friendly interface and security measures, you will not interrupt asphalt production.
AFTER SALES SERVICE, WARRANTY AND SPARE PARTS
With over 40 years of manufacturing experience, we know the importance of after-sales support. Our expert team provides 24/7 service, and our company keeps critical parts in stock. With our 2-year plant warranty and after-sales support, your construction site will continue on its way.
ADDITIONAL EQUIPMENT
There may be equipment requirements for the production of different types of asphalt. Power asphalt plant is designed in such a way that additives (such as fiber additives, modified bitumen, foam asphalt) and recycling asphalt unit can be added.
REDUCE YOUR CONCRETE FOUNDATION COSTS
Your concrete costs are reduced with the steel legs we manufacture optionally for the tower and other equipment.