160 ton/hour Capacity Continuous Asphalt Plant
The Power 160 ton/hour capacity continuous asphalt plant is suitable for the production of hot asphalt for large-scale road projects. It can be produced in mobile or stationary type.
HIGH PERFORMANCE
The 160 ton/hour continuous type asphalt plant is designed at %5 aggregate humidity and each equipment has been selected to operate under heavy conditions for a long time without any problems. With Power mobile or stationary continuous type asphalt plants, you can continue to produce asphalt without any problems.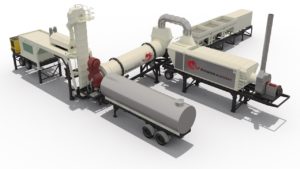 HIGH QUALITY ASPHALT PRODUCTION IN THE MIXER
Drummix asphalt plants mix asphalt in the dryer. In this way, the hot asphalt mixture becomes unhealthy. Power continuous asphalt plant allows you to produce high quality asphalt by mixing according to your recipe with the mixer it has at the dryer outlet.
LOW OPERATION AND MAINTENANCE COSTS
Your operating and maintenance costs are reduced with low fuel consumption and high quality parts.
ENVIRONMENTALLY SENSITIVE AND LONG LASTING FILTER TECHNOLOGY
We provide low energy consumption and use long-lasting bags with our atmospheric type and bag filter that fully complies with environmental rules.
POWERCONTROL AUTOMATION SYSTEM
Powercontrol automation system has multi-language support, user-friendly interface and remote connection feature.
AFTER SALES SERVICE, WARRANTY AND SPARE PARTS
With over 40 years of manufacturing experience, we know the importance of after-sales support. Our expert team provides 7/24 service, and our company keeps critical parts in stock. With our 2-year plant warranty and after-sales support, your construction site will continue on its way.
ADDITIONAL EQUIPMENT
There may be equipment requirements for the production of different types of asphalt. Power asphalt plant is designed in such a way that additives (such as fiber additives, modified bitumen, foam asphalt) and recycling asphalt unit can be added.
REDUCE YOUR CONCRETE FOUNDATION COSTS
Your concrete costs are reduced with the steel legs we manufacture optionally for the tower and other equipment.