The cold aggregate silo is the first unit in the asphalt plant. Aggregate bin is used to feed the aggregate brought to the field in various fractions to the system according to the rates in the recipe. 3-4-5 and 6 cold aggregate silos (bin) can be offered according to asphalt plant type.
While aggregate bins are manufactured with dosage conveyors in asphalt plants, they are manufactured with pneumatically controlled covers in concrete plants. While dosing is done in the asphalt plant, weighing is carried out on the belt in the concrete plant.
Cold aggregate silo (bin) can be produced in stationary or mobile type. It consists of mobile aggregate bin, bins, dosage conveyor, collection conveyor and can be transported on a single chassis.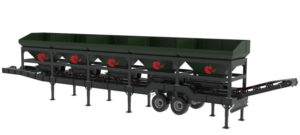 TECHNICIAL SPECIFICATION
8-20 m³ aggregate storage capacity

Grating system to prevent large aggregates from entering the system

Vibration system to facilitate the flow of fine aggregates in the bin

Easy to assemble bolted bin attachments

Dosing conveyors that provide precise dosing

Mobile or stationary type aggregate bin option